_Natural Stone_
If you are a local contractor looking for a reliable supplier of natural stones, please call us at Metro Supply & Service. We maintain a large inventory of premium quality stones so we can supply any quantity that you may need for your project. We can also serve the needs of DIY homeowners and landscapers in Rockaway, NJ and surrounding areas. We have the right type of stones for home improvement, landscaping, hardscape features, and other masonry projects. We source our products from trusted quarries in the region so you are assured of top-quality stone products. Call us today at (973) 627-7626 to place your order or visit us at our shop to personally select your desired natural stone.


Why Opt for Natural Stone
Natural stone is widely used in construction and property improvement projects. This is not surprising given the outstanding qualities of this masonry material. If you have a property improvement project or you need to enhance the look and functionality of your landscape, stones should be your top option. Choosing the right natural stone for your project should not be a problem since there are different stone types to choose from. Some of your choices include bluestone, limestone, fieldstone, granite, and river stone. Achieving a highly customized look for your outdoor feature or amenity will be easy because our stones are available in different sizes, shapes, colors, and finishes.


Elegant and Durable Natural Stone Features
Our natural stone products are best used for walls, pavements, and other masonry features in the landscape. Stones are excellent materials for outdoor amenities because of their natural beauty and durability. You can easily achieve elegant-looking driveways, patios, and outdoor living spaces by using flagstone or stone pavers. Aside from being a decorative material, this masonry material can transform any area into a more functional space. Your pool area, for example, can become a perfect spot for rest and relaxation if you have a deck made of stone pavers. Safety in this area is also improved because of the slip-resistant quality of stones. Since stones are inherently tough, you can use them on areas that are subjected to heavy vehicle- and foot-traffic, extreme weather conditions, and harsh elements. Stones can provide other excellent benefits such as making homes more energy-efficient, creating safer outdoors, and reducing your property's maintenance cost. If you want to enjoy all these benefits, make sure to get these materials from trusted suppliers like us.

Please take a look at our extensive inventory of premium natural stone products: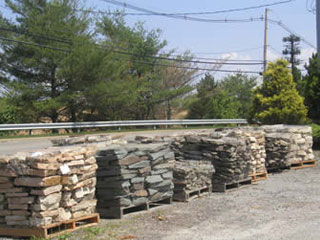 WALL STONE
Pennsylvania Fieldstone
Colonial Bluestone
West Mountain
Lilac Fieldstone
IRREGULAR STANDUPS
Blue-Stone
West Mountain
Lilac
Varying sizes of Bluestone Treads and Limestone Treads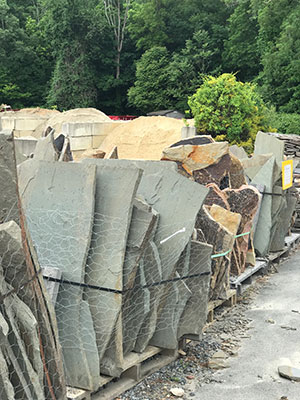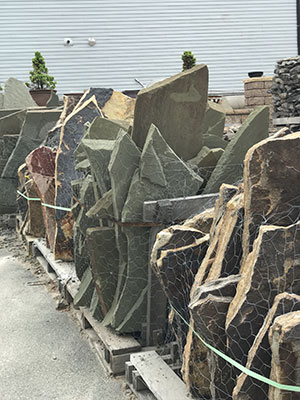 PATTERN BLUSTONE