_Cubic Yard Calculator_
Are you wondering how you could determine the volume of aggregates you need for your hardscaping projects, or the exact topsoil volume and ready-mix concrete required for the task? There are many instances narrated by our past clients that their cluelessness in computing for cubic yard of materials resulted in them ordering more than they actually need. But why take the risk when there's a tool to help you get the right proportion of masonry and landscaping materials? At Metro Supply & Service, we have the perfect solution for you. Use our user-friendly cubic yard calculator to get the right amount of materials for your project, whether it is small or large one. This app has proven very helpful for contractors who want to make sure that they're on the right track in purchasing the right volume of materials. We have also helped countless DIY property owners with this user-friendly app.

By using our online cubic yard calculator, you can simply input the dimensions, shape, and quantity of the area you're working on and you'll get answers in cubic yards, cubic feet, and cubic meters. You may also opt for the cost calculator to have an idea about the amount you'll likely spend for the project's materials. With this, there's no excuse to order materials more than what your project actually requires.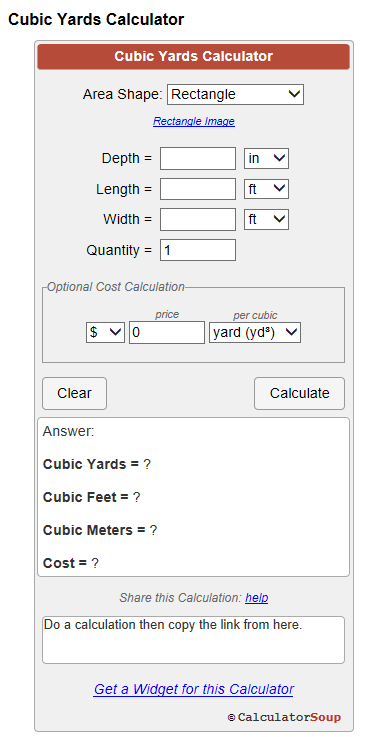 Meanwhile, there are some basic factors to consider when working on a masonry or landscaping project other than just computing for the volume of materials using our cubic yard calculator. Primarily, you must set your budget limits so you won't spend more than what your finances permit. You should also check the specific types of materials you will use to ensure that no material will be squandered. Of course, consider also your existing structures and amenities when adding masonry pieces or landscaping elements. The key is to ensure that both the existing elements and the additional ones will seamlessly blend into a coherent whole. Now, if you need more help in determining the things that you must take into account, just call or drop by at our store and our friendly staff will gladly assist you.

We urge you to browse our site to see our extensive product lines. Our masonry and landscaping products are trusted by many property owners, contractors, and landscapers across New Jersey. Our past and present clients in Rockaway, Mt. Lakes, Oak Ridge, Morristown, Sparta, and Wharton all attest to the excellent quality of the materials we sell. We can supply large volumes of premium construction, masonry, and landscaping materials at very competitive prices. Call (973) 627-7626 right now.