_Masonry Supplies_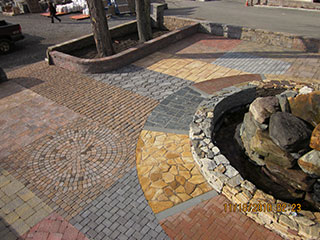 Every landscape project big and small needs masonry products. These materials are used to build the foundations of various features; pavers are used to build driveways, pathways etc. There are a number of other concrete masonry materials that are used in the build of outdoor spaces. Creating stunning and sustainable landscapes is about making sure that you use good materials in their construction.

Companies like Metro Supply & Service supply high-grade masonry materials to customers from Rockaway, Denville, Boonton, and Montville. Many clients from Kinnelon, Jefferson, Hopatcong, Wharton, Randolph, Morristown, and the surrounding areas source the supplies they need for their garden and landscape projects from here. There are various categories of products to choose from including:


Block & Brick
A variety of bricks are needed for the construction of boundary walls, retaining walls, sitting walls, demarcating walls and garden walls. While some walls largely have cosmetic value, others serve a specific function like preventing soil erosion etc. They need to be built using special types of concrete masonry units. Most walls also need mortar to bind the layers of bricks or blocks together and add to the strength and integrity of the structures. The range of products in this category includes:


Concrete Blocks of different sizes
Concrete Lintels of different sizes
Concrete Bricks
Bricks (Assorted Used/Natural)

These companies also supply different varieties of cement and mortar such as Portland Type I 94lb, Type S Mortar, Cement/Lime, Hydrated Construction Lime, and Type M Mortar Quikrete Products, Veneer Stone Mortar Mix, Fast Setting Concrete Mixes and more.


Masonry Strengthening Products
When any masonry features are built, they need a strong grid or supporting framework to keep the structure strong and stable. This is why companies that supply landscape masonry products also have a variety of other supplies used in these projects such as:


Steel & Metal Supplies
Angle Irons
Anchor Bolts
Window Wells
Loop Ties
Tie Wires
Rebars
Dura-Walls
Rebar Chairs
Wall Ties

Foundation Straps and Vents, Wire Mesh (Sheets/Rolls), Dee Nail Stakes, Spikes and Self Furring Wire Lathes are some of the other products that these companies supply.


Drainage Materials
Drainage systems are an integral part of every landscape, big or small. These systems collect all the excess water from the landscape and the run-off from patios and decks and direct it towards the city's main water drains outside your property. You can procure drainage construction materials from the landscape supply companies; some of the products include:


Catch Basins
Trench/Channel Drains
Filter Fabric
Sump Pump Pits
PVC Pipes
Poly/Mira Drain
ADS Corrugated Pipes

They also have miscellaneous products such as Caps, Connectors, Tees, Elbows, Wye, and Plugs. Fireplaces materials such as Fireplace blocks, Thimbles, Clean-Out Doors, Ash Dumps and Fire Brick are the other things these companies supply. In short, you don't have to run from pillar to post looking for various materials and can source all the landscape masonry supplies you need from a single supplier.

The quality of the masonry you use in your landscaping project decides how durable and appealing your landscape will be. If you want outdoor spaces that are resilient and long-lasting, make sure you purchase all your landscape supplies from reliable and well-established companies like Metro Supply & Service.

"MORE ARTICLES"
Landscaping Supplies
Pavers
Wall Stone
Natural Stone
Aggregates